1) Please send us the details of your order to lamodeboutique1@gmail.com
Your Full Name
Contact No
Delivery Address
Item Code
Item Size
Item Color
Quantity

2) Upon confirmation of your order, payment has to be made within 2 days else your order will be cancelled. We will furnish you with our MAYBANK account information for payment transfer.

3) Once payment has been made, please inform us by sending an email to lamodeboutique1@gmail.com with the following details.
Your Full Name
Contact No.
Transaction No.

4) Upon receipt of your payment, items will be delivered within 7 working days.

All prices stated are NOT inclusive of postage fee (unless otherwise stated).

Shipping Fee
West Msia : RM 8 for 1 item, RM 4 for 2 items
East Msia : RM 13 for 1-2 items, RM 8 for 3 items

*Price varies according to the weight of the item(s)

*Purchase 3 items and above entitled to FREE SHIPPING (West Malaysia)
*Purchase 4 items and above entitled to FREE SHIPPING (East Malaysia)

**We do ship internationally, interested buyers, please email to enquire.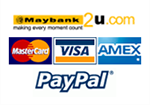 NOTE: Enjoy discounts/rebates when you shop at La Mode Boutique. Click here to find out more.